Latest Information
UPDATED 23/12/21
We are delighted to be opening the doors of St Andrew's and St Paul's again, to be together, as God's church in this place. Our plans for the coming weeks take into account both our new partnership with St Paul's, Wahroonga, and also the easing of restrictions in Sydney, and will take place over a series of stages over the summer.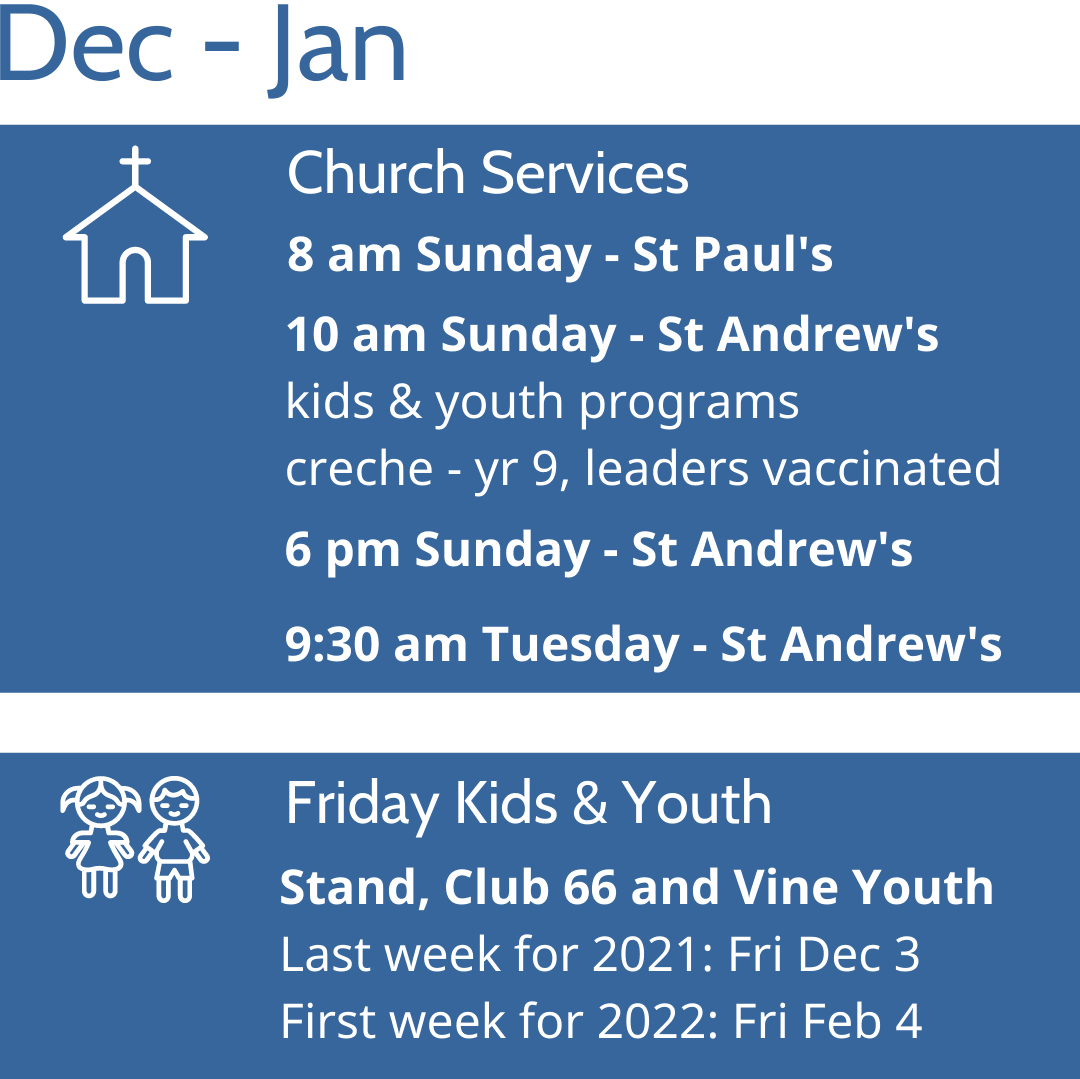 ---
Returning to Church - FAQs
What safety plans will be in place onsite?
Our plans will stay in step with current NSW government health and safety guidelines. (Our COVID Safety Plan can be viewed below). Onsite safety will be upheld through regular cleaning, ventilation procedures, mask and sanitiser use and QR check-in. At present we are asking those planning to attend our services to bring and wear a mask whilst indoors (we will also have masks available).
All those serving in face-to-face ministries onsite will be double-vaccinated.
As always, we ask anyone experiencing symptoms of illness to avoid in-person church and to join us instead via the YouTube livestream.
Is there room for everyone (given density limits)?
Yes! We are looking forward to welcoming everyone back on site at St Andrew's and St Paul's - there is room for everyone, and we hope to have the opportunity to welcome newcomers too.
What's the plan for children and youth programs?
Throughout the summer our 10am Sunday service will have holiday programs for preschoolers and primary schoolers, we are looking forward to having the youth with us in the service.
All leaders involved with our children and youth programs will be double-vaccinated. Parents of children are encouraged to pack morning tea for their children.
How do I give to my church if my service is not located there?
The easiest and most helpful way to give to St Andrew's or St Paul's is to give electronically (bank details for each are listed below). Alternatively, offertory envelopes for each church will be provided onsite at both locations.
St Andrew's Wahroonga Bank Details
Account Name: St Andrew's Anglican Church Wahroonga
Account Number: 281606
BSB: 032-189
St Paul's Wahroonga Bank Details
Account Name: St Paul's Church Wahroonga
Account Number: 81-0110
BSB: 032-084
---
COVID Principles
As the COVID-19 pandemic continues to have an impact here in Australia and throughout the world, we know that our God is sovereign over the coming days and we trust him.
We commit to bring our world, our nation, our city before him, in prayer and thanksgiving for the suppression of the virus that has been made so far and the freedom that this has afforded our country.
We commit to keeping in step with the advice of the health authorities - whether that involves a tightening or easing of restrictions at different points.
We commit to being who we are as a church - gathering together as a diverse people bound together by God's grace to hear his word - the word about his Son, our saviour Jesus - who died and rose again for us - a word that brings forgiveness, new life and hope forever!
With such life changing news, we remain committed to finding ways to gather onsite or in homes (as appropriate) and online (as necessary) to ensure that God's word of grace is heard by our church and the community of Wahroonga.
With NSW reaching 80% vaccination rate we are excited to return to in-person church each Sunday (from November 7) and throughout the week. While we were able to open earlier we have waited until this point so as to be able to welcome all comers. The church founded on the grace of the Lord Jesus Christ is not to be a place of inequality and inaccessibility, rather it is to be a place that welcomes all who would come, to hear and receive the new life that only Jesus offers.
We're working hard to ensure that St Andrew's remains a COVID safe place to gather. To find out more, check out our current COVID Safety Plans.
---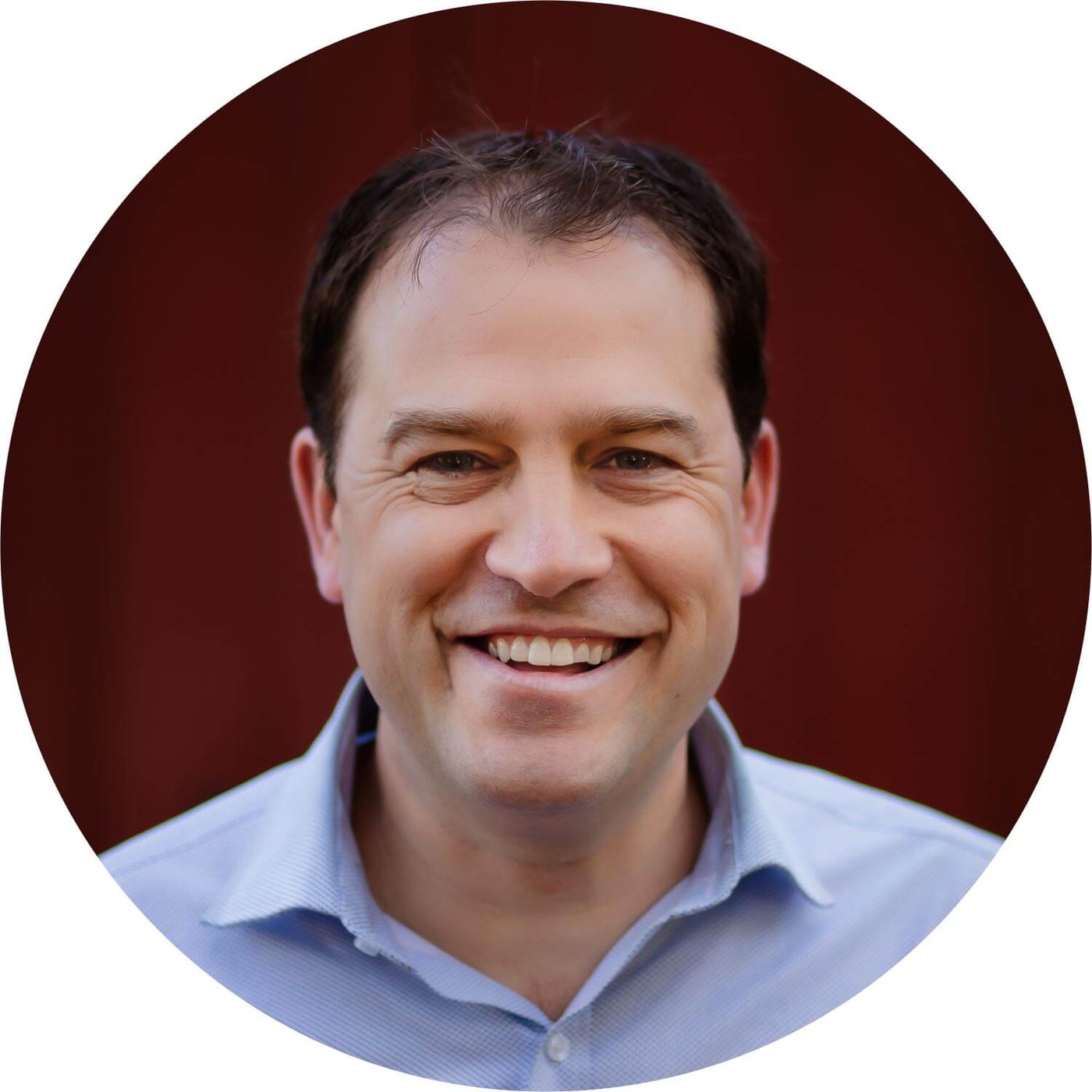 If you'd like to get in contact with any questions or feedback on our plan, please send me an email or use the form below.